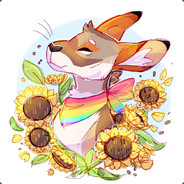 Entry posted by Aqua ·
1102 views
"You said this morning I was your first crush"
"When did you, y'know, realized you liked me?" Aishou connected
"It was back when we were eleven, back when I was getting bullied" Aqua confessed
"It was time those kids in my class put a gaming mouse on my desk with a note 'You can't aim for shit' remember?"
"I remember finding out who put that note on your desk and rekting their ass in MGE." Aishou replied with fire in his voice.
"What sticks out in my mind was when you found me crying beside the bike shed, you didn't say a word; you just hugged me until I stopped sobbing. I felt so safe in your arms; the softness of your hands, the way you smelt. I even peeked a few looks at your face. That's when I realized I wanted to kiss you." Aqua admitted.
his voice warm with the memory before adding "Hell that was so corny."
"I like corny you, don't ever change." Aishou replied.