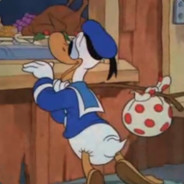 Pronessf \ˈincapable of using more than 1% of his brain\
The more dumbed-down version of human waste
Looking at Pronessf's TF2 career would make anyone laugh out loud; in the short span of 3 years, Pronessf has managed to clock in one of the most consistent resumes in Asiafortress and has had arguably the most stagnant progression in the entire gaming world.
Despite being part of the new influx of latent talent that started in AFC 10, one that represents a new generation of Asian TF2, Pronessf distinguishes himself through his rapid continuous feeding, having become the same exact player the next 4 seasons.
Pronessf's descent to the bottom of the barrel symbolises the never-ending quest to win Division 3 1st, personified in his journey from Participant in Div 3 to 2nd in Division 3 in every single team , yet not able to take home the trophy. Every time he reached the familiar stage called grand finals, he was forced to take on another challenge that he could never finish. So far he has encountered the exact same test the past 3 seasons, but how does he proceed from here?
The original impetus that propelled Pronessf into AFC10 was with REDDIT HEADLINERS. Already in Week 1, he was given the title of Promising Talent (something that he would onto for unfortunately way too long) by facing Hoomanitee and easily destroying them. Steadily, reddit headliners established themselves as a mediocre Div 3 team. Alas, despite trying their best, they were unable to make it to playoffs, being defeated by every above-average team in the season.
Here, Pronessf's Achilles heel has already started to rear it's head: His absolute horrendous volume of his voice and lack of discipline when against any competent team. In the first few pugs pronessf's has taken part in, there were multiple complaints from many notable players.
Manceloot: " Just hearing his noisy ass squeaking vocal range makes me want to quit this dead game"
Spe0: " I deadass want to kill myself"

Pronessf: " god why isnt my team pushing with me"
Yet upon being shunned by the community, Pronessf decided to continue with his way. While it's impossible to know how much of the decision was on Pronessf ( I suspect it was all him cause no one wanted to pronessf to stay the same), this is the first example where he displayed a distinct lack of social awareness in TF2.
And yet, this seemed not to matter by the advent of AFC 11. Together with adopted brother Nameloc, Pronessf created the new super team for Div 3, with him showing lower vocal ranges which allowed him to be tolerated by players due to puberty. He wasn't an average player like Drc, or possessed huge amounts of natural talent but whatever innate skill he possessed when he began playing TF2, it was soon eclipsed by cursed +wm1…..
Especially during AFC 11, one would find Pronessf at the pinnacle of Division 3 drama; the Chinese simply could not shut his mouth.
As a result, CTZ  quickly found themselves taking out every other team in Division 3, only dropping 2 maps over the entire season. Both to Technical Difficulties before playoffs. The very fact that CTZ only lost to one team with this innate pile of human trash speaks to volume as no other team has done this before.
By this point, while Pronessf was not hard carrying his team ( players like momo, nameloc and Striker were all playing very well ), he had shown complete mastery on the arts of walking forward over the rest of his peers, and his all around play was so far strong enough to cover his biggest weakness: the lack of discipline.
Everyone thought that this would be the roster to win AFC11 Division 3. However, by the time the first map started in the Grand Finals against Teme Machines, the chinese superstar had fallen. Dying multiple times despite teammates complaint, who could even guess what was going through his thick skull. Alas, this would prove devastating to Pronessf as while the rest of his peers advanced through the divisions, he decided to take something no PLAYER would ever dream of : a break.
Fast forward a season, players that he had grown up with were finally in Division 1 and his adopted brother Nameloc had his team disbanded because of poaching reasons. AFC13 was going to be HIS season. Now this time, Pronessf wanted to be smart, he wanted to win. Thus, he decided to join STANK industries, consisting of Division 1 medic main, ifun,  and AFC medals leecher, Pure ( banned right now LOL). Now things were looking great for Pronessf, he had all the right pieces and everybody wanted to win Division 3. However, something forsaken happened, something no one would ever imagine happening: the B U M P. This caused STANK industries to immediately remove every single weak link in the roster, including our beloved feeder, Pronessf. Still wanting to make something out of his pathetic career, Pronessf immediately jumped ship onto Ogygia.
Here on Ogygia, Pronessf realised that he had to play with 5 players that were inferior to him, resulting in him having to maincall (??????). This would prove to be quite successful. However, as this brilliant mastermind had only joined in TW1, he was far too late to change Ogygia's last few placings into a spot in playoffs.
Yet again, the stars aligned. Pronessf's buddy and roster rider, Megu, had spread the good name of this 15 year-old and allowed him to join with a top Division 3 Team, Abnormal Sodium, giving him a chance to play with Asiafortress' oldest player, spikycactus. This would be probably one of the most successful runs to Grand Finals as Pronessf finally had someone that could put him in his place.
However, this would prove too good to be true. As ABNA slowly crawled their way in Grand Finals, tragedy struck, but this time in the form of a LUXURIOUS HOLIDAY FOR MR. STARVOX TO NIHONLAND (HELL YE)!!!!! Unfortunately, for Pronessf and his Grand Final crew, they were in deep trouble. They had lost their most powerful player and needed to field a merc ASAP. This would eventually lead to the unofficial signing of ABNA Manceloot, something which both Pronessf and Manceloot wish had never happened. ABNA put up an amazing fight against eventual Division 3 Winners, Alphadogs, but they were yet unable to defeat them as the Pronessf Curse held strong.
That day, Pronessf gained two little spots on his resume: Yet another Division 3 2nd and the constant belittlement of Manceloot.
After a failed stint in PURE IM division where he was cut in TW1 and replaced by drc on scout (god kill me) due to feeding habits, Pronessf realised that ENOUGH WAS ENOUGH, he wanted to prove everyone else wrong, he wanted to show that he was not a disgusting tumor. Thus, he began adventuring even further, he went to the land down under, "I lost to a bunch of emus" land.
Here, Pronessf got his name out, even forcing a certain member of the OZF community to forever have the letters " P R O N E S S F" printed on to the back of his head. This man was called Vivi. Vivi here was not a gigantic fan of Pronessf, but soon time showed that despite how hard you tried, you could never really cure cancer, and that you could only accept it. Soon enough, Vivi picked up Pronessf to play for his AFC14 team, Butters Fan Club. However, this time Pronessf wasn't picked up to play his signature scout, but instead he was forced to take on the mantle of Pocket. This would prove to be a very new experience for Pronessf as not only was he picking up a new class, he was also playing with a bunch of very english people who had low tolerance for noise pollution. Despite being his 4th season, Pronessf was still producing the most useless and loudest information.
Thus AFC14 began. Despite having a minor bump fighting against wubwub's team, Pronessf managed to turn the tide around and defeat every other Asian team even with a minor ping disadvantage. They also managed to destroy Cute Little Sister 6s through a brain play Pronessf likes to call " Jump Quasar". After 7 weeks of putting up with players from different continents, Pronessf found himself on the top of Division 3 leaderboards. Unfortunately, despite showing his wrath and capabilities he has on pocket, many Division 3 player3 who failed to conquer a spot in playoffs criticise his ability as a player, players like these include w4lker from Signatured.
The tale of Pronessf is far from over. This week marks the start of playoffs and the start of Pronessf's journey to first place. Will he achieve what he had aimed for so so long, or will he add another Division 3 2nd place to his unbelievably disappointing resume?
Written by TF2 Extraordinaire and in no way copied from K1lled's blog post,
ruee.